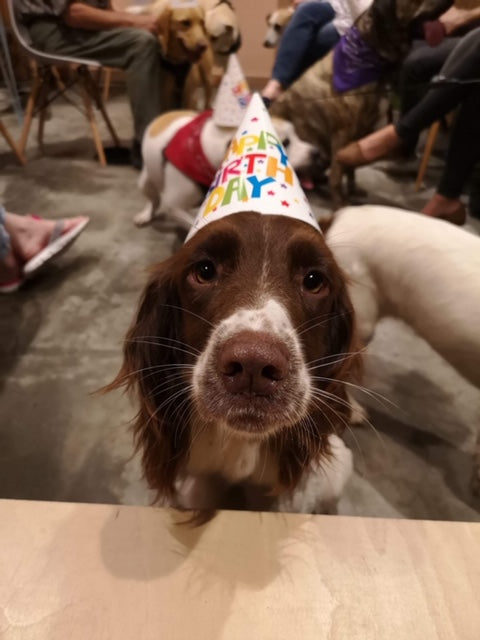 Dog Birthday Treat Box
Dog Birthday Treat Box
Welcome to our Dog Birthday Treat Box: Handmade, Wheat Gluten and Grain-Free Delights from our DEFRA Approved Dog Kitchen
Celebrate your furry friend's special day with our delightful Dog Birthday Treat Box. Packed with a variety of handmade, wheat gluten and grain-free dog biscuits, this box is the perfect gift to shower your pup with love and delicious treats. Each biscuit is carefully crafted in our DEFRA approved dog kitchen, ensuring the highest quality and safety for your beloved canine companion.
Our team of passionate dog lovers is dedicated to providing only the best for your furry friend. That's why our dog biscuits are lovingly handmade, using premium ingredients that are free from wheat gluten and grains. We understand the importance of catering to dogs with dietary sensitivities or specific nutritional needs, so you can trust that our treats are a wholesome choice for your pup.
With our Dog Birthday Treat Box, you can expect a delightful assortment of flavors and shapes that will have your dog's tail wagging with excitement. From savory bacon bites to mouthwatering peanut butter, our biscuits are designed to satisfy even the pickiest of taste buds. Each treat is carefully crafted to provide a crunchy texture that dogs love, making them the perfect reward or indulgence for any occasion.
What sets us apart is our commitment to safety and quality. Our DEFRA approved dog kitchen adheres to strict hygiene and manufacturing standards, ensuring that every biscuit is prepared with care and precision. You can have peace of mind knowing that your dog's treats are made in a controlled and regulated environment, providing the highest level of quality and safety.
Whether you're celebrating your pup's birthday or simply want to show them some extra love, our Dog Birthday Treat Box is the ultimate gift. Each box is thoughtfully curated and beautifully presented, making it a paw-some surprise for your four-legged friend or a thoughtful gift for a fellow dog lover. Let us help you make every celebration extra special with our handmade, wheat gluten and grain-free dog biscuits.
Treat your pup to a box of wholesome, delicious, and beautifully crafted treats. Celebrate their birthday in style and make their tail wag with joy. Order your Dog Birthday Treat Box now and make your dog's special day one to remember!
All you need to do is add the Birthday Box to your cart, in the notes let us know your dog's name, how old they will be, and if they have any allergy's or dislikes that we should be aware. We will take care of the rest + post out their box of yummy goodness.