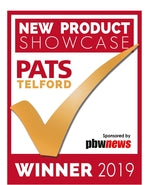 Spotted! Dog ID Tag
SPOTTED! DOG ID DOG TAG
SPOTTED! The ultimate solution for lost dogs.
This product was the winner of "The New Product Showcase" at a large Pet Industry exhibition in Telford last year, we visit every year and we were so excited when we saw this product.
What is SPOTTED! and how does it work?
It's a new smart pet tag and there are 4 easy steps to get all set up:
Step 1: Scan your tag
Step 2: Download the free App
Step 3: Register the tag
Step 4: Attach the tag
Why choose SPOTTED!?
There are no monthly fees, there is a 60-day money back guarantee, it has worldwide tracking, and it has such a simple user-friendly app and setup.
There is absolutely no range limitation to the SPOTTED! tag, there are no batteries, it is completely waterproof, the QR code on the tag can be scanned with any iPhone, as there is a QR scanner already included on their camera, and for all other phones a QR scanner app is perfect!
Kibble Bakery+ Coffee House is an independent family run dog café and bakery based in Skipton.
Kibble Bakery online aims to be your 'One stop dog shop' and focus on sourcing contemporary design to help you have a 'trendy ass pooch' So, we scour the world to bring quirky and unique pieces to make your pup stand out from the crowd. We love finding them super special pieces that you can't find around every corner. We work with designers from America, Australia, Sweden, and of course here in the UK. You are bound to find something extra special just like your four legged friends!