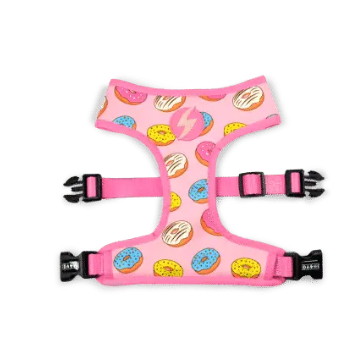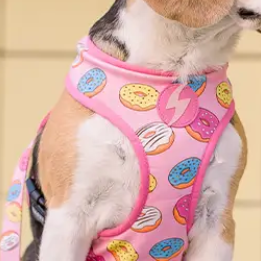 Dashi Donut Harness
DASHI DONUT HARNESS
Meet the new brand to join Kibble, Dashi™, a Portuguese brand 🇵🇹 of pet accessories, a brand with its own style, in a perfect mix between the loving side, but at the same time rebellious.
Introducing the Dashi Donut Harness: Treat Your Pup to Style and Comfort
Indulge your furry friend with the delightful and fashionable Dashi Donut Harness. This adorable harness combines irresistible design with optimal comfort, allowing your pup to strut in style while enjoying a secure and enjoyable walking experience. Give your dog the ultimate treat with this trendy and functional accessory.
Meticulously crafted with both fashion and functionality in mind, the Dashi Donut Harness is made from premium-quality materials to ensure long-lasting durability. The sturdy yet soft fabric ensures a comfortable fit, while the charming donut pattern adds a playful touch to your pup's wardrobe. Let your dog make a sweet fashion statement on every adventure.
Designed for your dog's comfort, the Dashi Donut Harness features adjustable straps for a customized fit. This ensures a snug and secure feel, allowing your furry friend to move freely without any discomfort or restrictions. The ergonomic design ensures a comfortable and safe walking experience for both you and your pup.
Safety is a top priority at Dashi, and this harness includes sturdy metal D-rings for leash attachment. The secure attachment point allows you to maintain control during walks, ensuring the safety of your beloved pet. Walk confidently knowing that the Dashi Donut Harness provides a secure connection between you and your pup.
Suitable for dogs of all sizes and breeds, the Dashi Donut Harness comes in various sizes to accommodate different body types. Refer to our size guide to find the perfect fit for your furry friend and provide them with the utmost comfort and style.
In summary, the Dashi Donut Harness is a must-have accessory for dog owners who want to combine style, comfort, and functionality. With its charming donut pattern, adjustable straps, and secure leash attachment, this harness offers a delightful and secure walking experience for both you and your four-legged companion. Treat your pup to the sweetness they deserve with the Dashi Donut Harness. Order now and let your dog strut their stuff in style!
Size Guide
 Size                                        Chest                                                    Neck
| | | |
| --- | --- | --- |
| XS | 30 - 36 CM | 24 CM |
| S | 38 - 50 CM | 28 CM |
| M | 48 - 62 CM | 32 CM |
| L | 57 - 77 CM | 42 CM |
| XL | 75 - 107 CM | 48 CM |